Quality steel at competitive prices delivered the next day
Delivery & Collection
Next day delivery available on most orders
No carriage charges
Lancashire, Yorkshire and Greater Manchester – Other areas by enquiry.
Large dedicated fleet of modern, efficient delivery vehicles
Product is covered/sheeted for delivery in wet weather
Steel Delivery
Next day steel delivery is possible on most orders for delivery to Lancashire, Yorkshire, Manchester, Cheshire. Deliveries or carriage to other areas of the UK can be arranged with the sales team.
Delivery is free of charge, all our product is covered and protected against wet weather.
Our fleet of over 14 dedicated K Steels flat bed lorries have experienced and helpful drivers dispatching from two warehouse sites in the North of England. This allows for a wide range of delivery options to suit your needs. Constant upgrades to our fleet ensure that our vehicles are fuel efficient and reliable.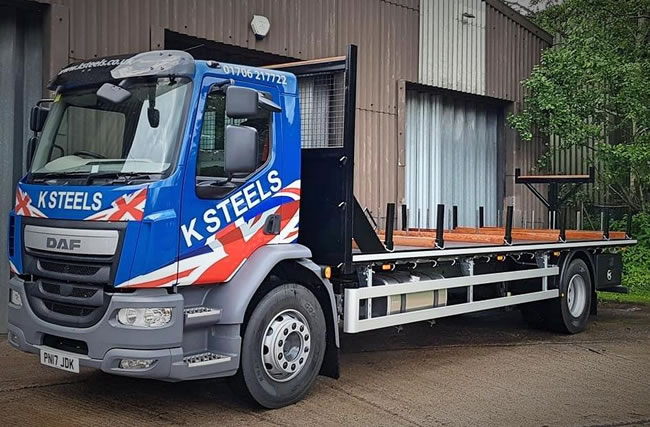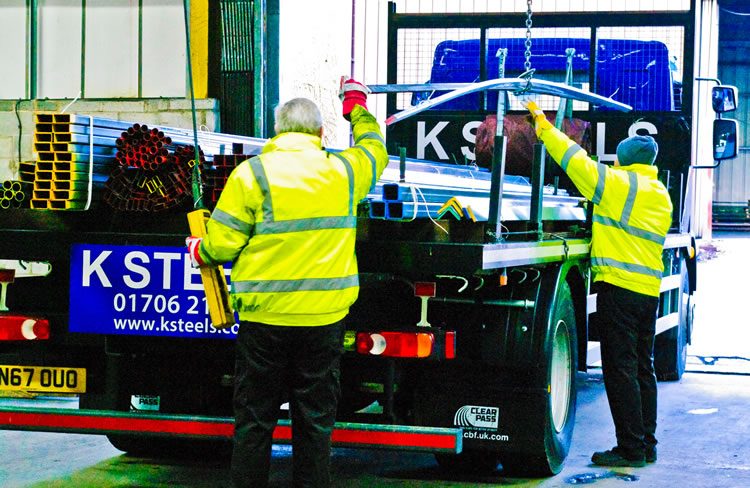 Steel Collection
Useful alternative to delivery
Collection is possible between 9am & 3pm, Monday–Friday
If you require your steel immediately then collections are available from both K Steels sites and can be arranged when you place your order.
"A fast and reliable delivery service every time you order"
K Steels Lancashire
Office hours 8am – 5pm Monday to Thursday, 8am to 4pm on Fridays.
Address:
Jubilee Works Holme Lane
Rawtenstall Rossendale
Lancashire BB4 6JF
K Steels Lancashire Directions
From M62/ M60 – Take the exit for the M66 Signposted 'Bury'.
Continue along the M66 until it becomes the A56. Keep to the right and the road becomes the A682.
At the second roundabout go all the way round – taking the final exit before the A56 for Bury Road – signposted 'Edenfield'.
Take the second right into Holme Lane , turn immediately left after the level crossing – continue straight on to K Steels.
K Steels Yorkshire
Office hours 8am – 5pm Monday to Thursday, 8am to 4pm on Fridays.
Address:
Block 7 Park Gear Works
Howarth Lane off Park Road
Lockwood Huddersfield
Yorkshire HD4 5DA
K Steels Yorkshire – Directions
M62 – FROM WEST – JUNCTION 23 – TAKE A640 To Huddersfield
M62 – FROM EAST – JUNCTION 25 – TAKE A62 T0 Huddersfield
From the town centre take the A616 (Signed Holmfirth)
In 1 mile turn right onto Swan Lane
Approx 300 metres Go under railway bridge turn left onto private road – follow road around to the right of the main entrance.